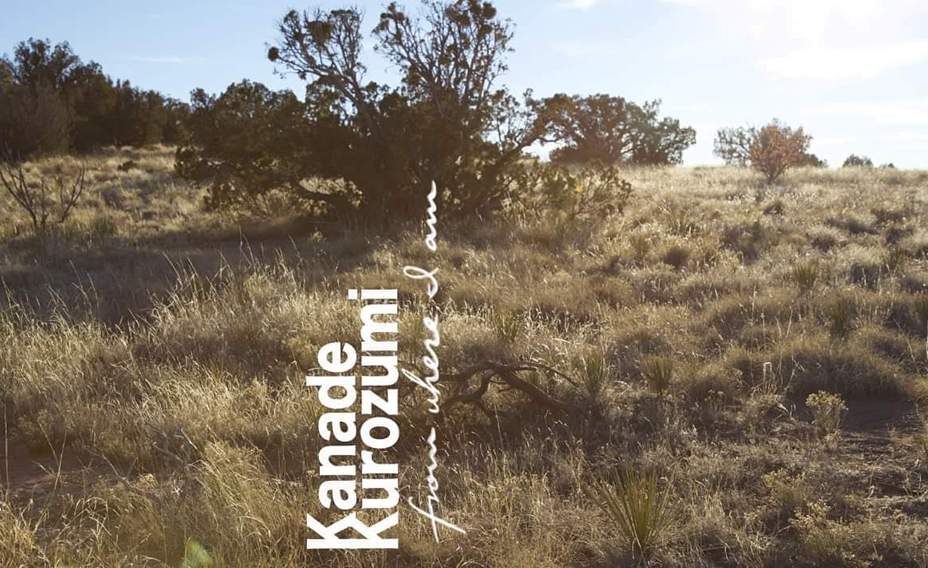 黒住奏 個展 Kanade Kurozumi Solo Exhibition "from where I am"
2021.3.30 tue - 2021.4.4 sun
11:00〜19:00(Last day〜16:30)
2002年から始まったアメリカ南西部への旅。
独りロードトリップの道中で出会った物語たちが、今、息をし始める。
地元広島での初個展で、写真家そしてアメリカ先住民文学研究者として、自身の口承の物語を体現する。
2021年春、次の旅へむけて、物語は続いていく。
 
A trip to the American Southwest started in 2002.
Stories she encountered during her solo road trip start breathing now.
In her first solo exhibition in her hometown Hiroshima, as a photographer and a researcher of the Native American Literature, she embodies her own oral storytelling.
From spring 2021, her story begins its next journey.

黒住 奏(くろずみ かなで)
広島出身。2002年にアリゾナ州へ初渡米。2004年に大学進学のため、単身ニューヨークへ行く。2008年ニューヨーク市立大学ハンターカレッジのメディア学部フィルム科卒業後、NYのメディア業界でニュース、ドキュメンタリー、大リーグ中継の撮影業務に携わる。
2011年日本に帰国後、アメリカ先住民文学に出会い大学院に進学。2014年広島大学文学研究科英語英文学科博士課程前期修了(アメリカ文学)。日本学術振興会特別研究員を経て、2017年広島大学文学研究科英語英文学科博士課程後期単位取得退学。
広島市内の大学で非常勤講師、通訳、翻訳、平和教育プログラムマネージャー、ギャラリースタッフの仕事を通して、文学研究、英語教育、平和教育、アートの分野で活動中。
Kanade Kurozumi
Born in Hiroshima. Kanade went to Arizona State on her first trip to the U.S. In 2004, she moved to NYC for college. In 2008, she graduated from Hunter College, City University of New York (BA in film) After graduating, she worked in the media industry in NY in areas such as news, documentary, and Major League Baseball.
In 2011, after coming back to Japan, she became interested in Native American Literature and entered graduate school. In 2014, she earned an MA in American literature from the Graduate School of Letters, Hiroshima University. She received a Japan Society for the Promotion of Science (JSPS) fellowship and she finished the course work of Ph.D program at Hiroshima University in 2017. She is currently working on her dissertation.
Currently she works in the field of literary research, English education, peace education, and art as a part-time instructor at colleges in Hiroshima city, in addition to work as an interpreter, translator, peace education program manager, and gallery staff.